Would You Like Us to Design
FREE BANNER ADS
For Your Local Business
Get Access To Our Professional Design Team To Create A Free Market Tested Banner Ad For You Based on Designs We've Proven to Convert After More Than 5,000,000 Tests.
FREE $500 Banner Ad For You.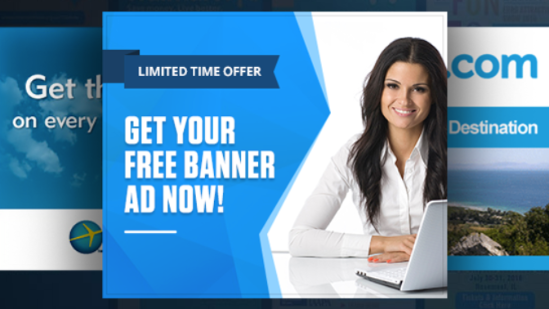 Why Should You Trust Our
BANNERS DESIGN? (You don't have to!)
(No need to take our word for it. Just split test our market proven designs against the ads you currently use for FREE. See what works best.)

Years Of Proven Research


With years of research and design work, our video ads are PROVEN to boost your conversions

Our Professional Design Team


You'll have direct access to our World Class Design team to make any updates to your FREE Banner Ad

Proven To Boost Conversions


We've researched the top 1000's of top converting Banner Ads and identified the top concepts for you to use to convert new customers

Absolutely FREE Banner Ad Design


We invest our time and expertise FIRST to give you banners that bring you more customers and new business... All for FREE
​​​​​​​
THIS IS
HOW OUR DESIGN SERVICE WORKS
Customize your Banner Ad by giving a few details to help our team create the perfect communication for your business.
Within 24 hours, our top design professionals will contact you to discuss your NEW Banner Ad
Choose From 100+ Market Proven Formats
Get Outstanding Results At No Cost
100% FREE Banner Ad $500 Value